Thousands Rally in Support of Medicaid Expansion
By Catherine Candisky and Jim Siegel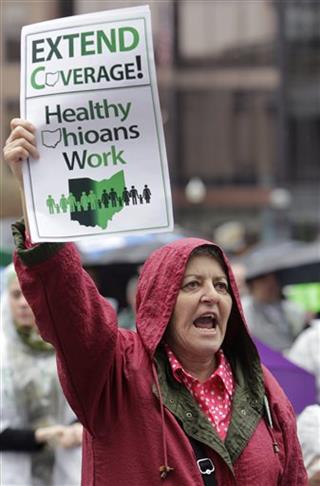 Thursday April 11, 2013 2:51 PM More than 2,000 advocates for the uninsured gathered for a lunch-time rally outside the Statehouse, hoping to resuscitate Gov. John Kasich's plan to expand Medicaid health coverage to thousands of poor Ohioans.
"It might take a couple days. It might take a week or two. It might take a month, but never confuse right and left in politics with right and wrong in life," said former state Sen. Bob Spada who serves as president of the National Alliance on Mental Illness of Ohio.
Republican leaders in the House earlier this week stripped the proposed Medicaid expansion from the governor's state budget plan. They said they were concerned about federal spending and didn't believe Congress would be able to live up to its promise to cover 100 percent of the cost for the next three years under the Affordable Care Act.
Under the plan, Medicaid coverage would be expanded to 275,000 more Ohio adults earning up to 138 percent of the federal poverty, bringing $13 billion in federal aid over the next seven years and resulting in a $400 million savings for state taxpayers over the next two years. The plan has sweeping support from the Ohio Chamber of Commerce, the Ohio Hospital Association, Ohio Right to Life, major insurers and many groups serving the poor.
Those who would gain coverage under the expansion and their supporters at today's rally urged lawmakers to "put people above politics."
Opponents "don't understand the level of desperation for those who have to go without health coverage," said Mary Hall, a New Albany mother of three children with developmental disabilities.
Susan Bennett, 52, of Columbus, said she used to look badly on those seeking government assistance when she was a well-off, stay-at-home mother in Westerville. But after her husband lost his business and the couple lost their home and ultimately their marriage, her opinion changed. Uninsured, Bennett now works low-wage temporary jobs and cannot afford treatment for skin cancer on her face and hand.
"It causes a lot of anxiety every time I look in the mirror. Will I be able to get treatment before they have to remove half of my lip?" Bennett said.
At one point, the crowd sent out a "thank you" to Kasich, while urging legislative leaders to change their positions.
"It's clear that, despite what some might want, the drive for better health care is pressing on—and with more intensity," said Rob Nichols, spokesman for Kasich.
"Today's outpouring of support, in the rain no less, is enthusiastic support of Medicaid Expansion
testament to the fact that there's such broad support for this. It needs to happen if Ohio's recovery is going to continue and the governor will keep fighting for it."
Leaders of mental health and addiction services around Ohio painted a dismal picture for lawmakers this morning as they pressed Republicans to support the Medicaid expansion.
In the year since the school shooting in Chardon that left three students dead and three more injured, placements of children in Geauga County into residential facilities for mental health care has doubled, psychiatric hospitalizations for adults has doubled and calls to the county 24-hour hot line have reached record levels, said Jim Adams, executive director of the Geauga County Board of Mental Health and Recovery Services.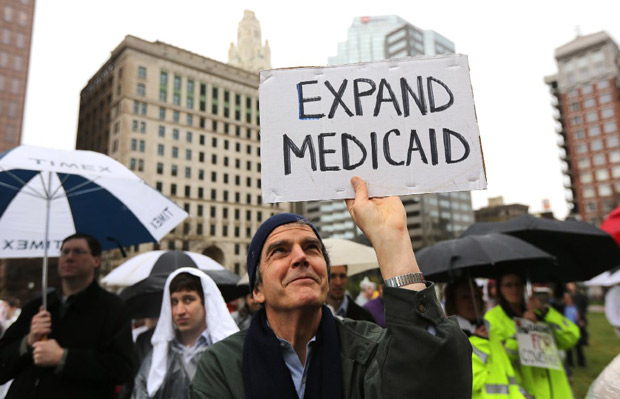 "While boards throughout the state have made enormous efforts to fill local needs, our funding has fallen far short," Adams said.
"Today, I'm faced with youth who have been traumatized by witnessing the murder of three young men, their parents desperate for treatment for their children, with no financial resources."
Scott Sylak, executive director of the Mental Health and Recovery Services Board of Lucas County, thanked House Republicans for including in the budget $50 million a year for drug addiction and mental health services.
However, "this funding will not address the substantial needs in our community, or offset the significant losses that will occur if Ohio does not expand Medicaid."
Sylak said his board has reduced allocations to community agencies by nearly 14 percent despite the need for services rising nearly 3 percent per year.
He said the prognosis is "bleak to say the least" for those who are ill but do not qualify for board services. He also anticipates, with no Medicaid expansion, a reduction in private psychiatric hospital beds for the uninsured because of the loss of the Disproportionate Share Hospital payments.
Cheri Walter, CEO of the Ohio Association of County Behavioral Health Authorities, said her boards are down $157 million a year in state funding since 2002, while the numbers who need services have risen.
"We are a system, frankly, that is in crisis," she told lawmakers.
"We cannot meet the needs of people who need drug, alcohol and mental health services."
House Finance Committee Chairman Ron Amstutz, R-Wooster, told officials that he could hear the panic and fear in their testimony and that there appears to be an "epidemic coming in bloom."
Click here to view Columbus Dispatch original article
Figure 2: Medicaid Expansion Rally at Capitol Building in Columbus