Mental Health America Gives "Step Up" Awards at Closing Ceremony for Mile of Quarters
for Mental Health Article written by Pam Roberts, Associate Director, MHALC
May 21, 2013
This past Saturday, Mental Health America, Board staff and the YES Club, representatives from Job and Family Services and The Boeing Company, along with Big Brothers/Big Sisters all met at the gazebo downtown to commemorate May as Mental Health Month with free face painting, balloons donated by Linnet's Flowers, cookies and presentations of the "Step Up" Awards for the top fundraisers in the Mile of Quarters for Mental Health fundraising campaign. Area businesses, agencies, churches and schools all participated in the effort to raise the Mile of Quarters. $3,100 was raised, which translates into over 1,000 feet. "We are very pleased about the results of the first year of this campaign. So many people were involved and put in a lot of work to raise money to benefit mental health programming for Licking County", said Pam Roberts, Associate Director for Mental Health America.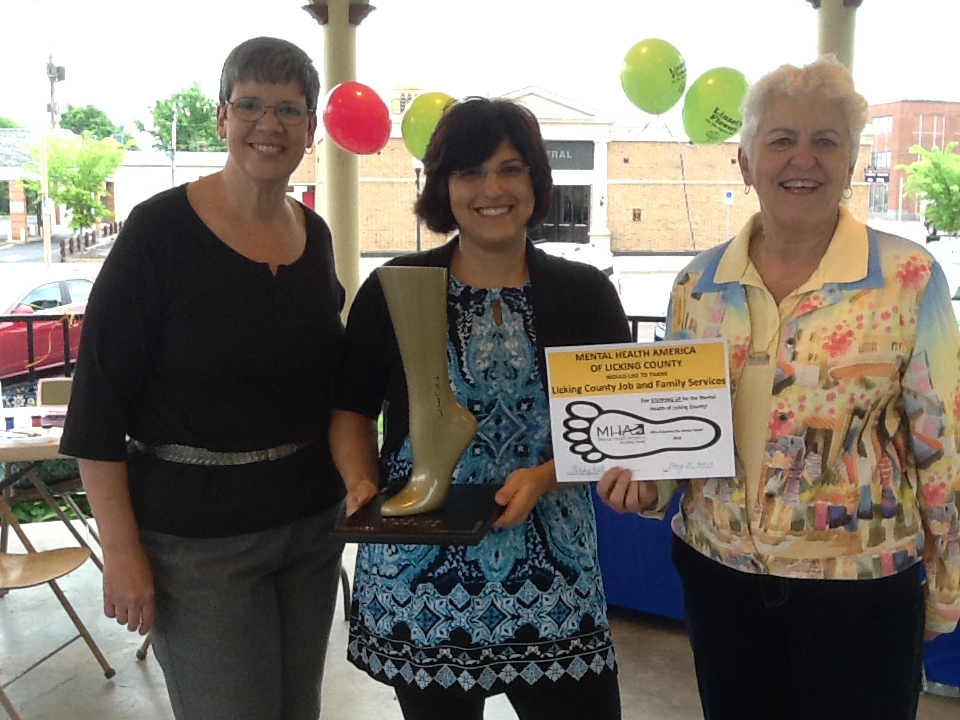 Job and Family Services ranked number one in the giving by raising $749! This was accomplished by Jennifer Ellis-Brunn, Human Resources Director, selling $3.00 footprints in exchange for dress down day tickets, with many employees stocking up for the future and managers buying them to use for incentives for their employees. Roberts was totally amazed at the 250 footprints that were on display all over the office walls. "Every wall had a line of footprints", said Roberts. The Boeing Company ranked number two, raising $410.00. The BEAGLE group at Boeing sold footprints during lunch breaks. Their feet each had rainbow toenails in honor of the LGBT community at Boeing and across the country. Many area schools also participated in Mile of Quarters. Some collected donations in order for them to wear jeans to school for a day, while another school held a dodge ball tournament to raise funds. John Clem Elementary of Newark came in as the top fundraising school, bringing in $298! A big thank you goes out to all the people who worked tirelessly on this campaign.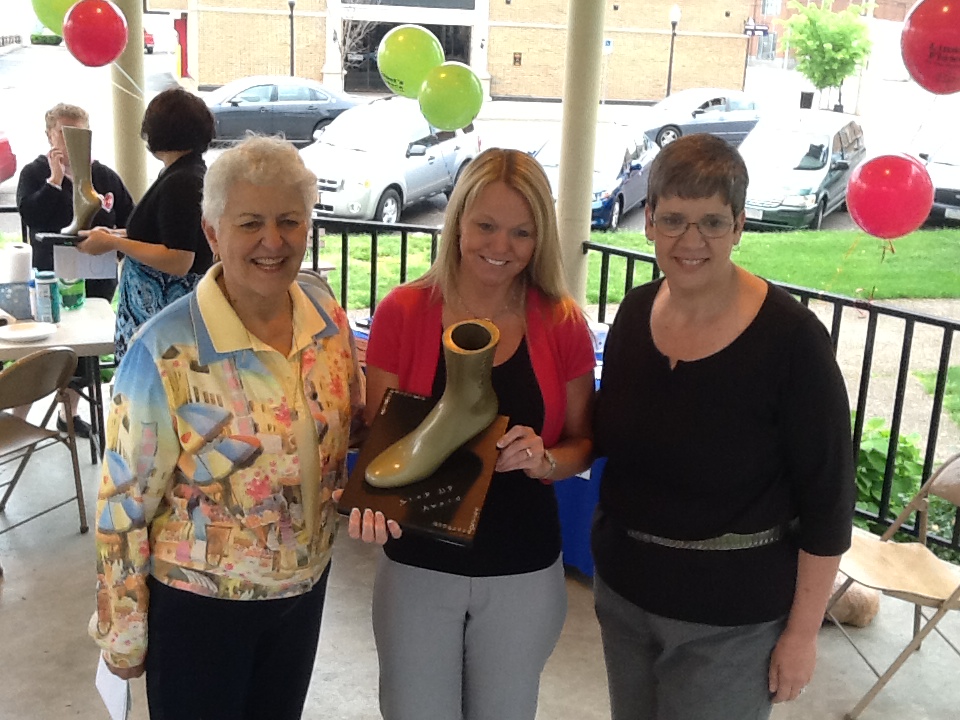 Mental health is a big topic in the news lately. Educating our community about mental illness, helping to get the facts out and dispelling the myths, is a very important part of eliminating the stigma that is so prevalent. People need to know that mental illnesses are real illnesses…just as real as diabetes. Mental illness is extremely common. Most of us deal with mental illnesses either within ourselves or in our family and friends. It helps so much to know that you are not alone. Mental illness is treatable. "I've lived my whole life with debilitating depression. In 1999, after the death of my daughter, I became suicidal. My doctor started me on a treatment plan that literally is saving my life," said Roberts. Treatment works…reach out for help.
Mental Health America of Licking County is a non-profit agency providing education, prevention and advocacy programs. Free screening is available on our website: www.mhalc.org. If you have any questions or concerns, please call us at (740) 522-1341. Mental Health America of Licking County, an affiliate of Mental Health America, is a partner agency of the United Way and Mental Health & Recovery for Licking and Knox Counties.