PAVE to continue thanks to Licking County Foundation Funding
Organization works to achieve namesake goal of preventing assault, violence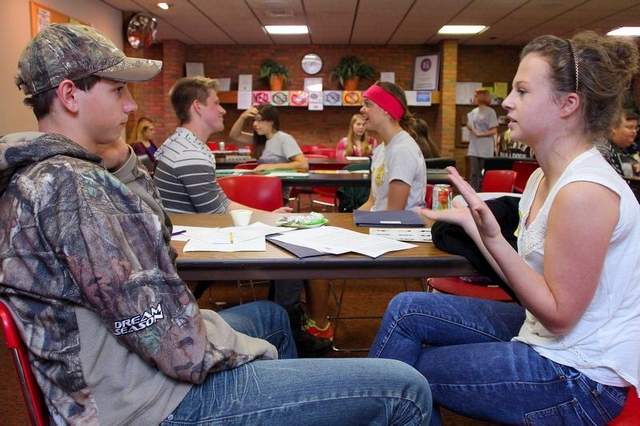 T he end of the year celebration for the Prevent Assault and Violence Education program always is emotional.
The teens participating in the program celebrate their accomplishments and say goodbye to the seniors who are graduating.
But this year's June event was especially difficult. Many of the students had no idea what would happen to the program they love.
Almost a year ago, PAVE coordinator Jan GreenRiver found out the program had lost the $60,000 grant that supplied the majority of its funding. The group continued on a reduced budget until the end of last school year, but things looked grim from there.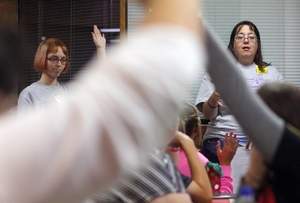 So GreenRiver was thrilled when she got a phone call last month, informing her that the Licking County Foundation had contributed about $40,000 to PAVE. That amount can keep the program going for another school year.
"I think they saw the value of the program," she said. "This gives us time to look for other funders."
For 19 years, PAVE has trained local high school students — known as PAVErs — to go into schools around the county and teach classes on bullying, media literacy, dating violence and sexual assault.
The program has a presence in almost all the middle schools in the county and also offers a high school program called RespectED.
In September 2012, PAVE compiled responses from about 7,800 students who went through its middle school and high school programs.
About 85 percent of the students said they liked the program and 95 percent said they learned something from it, GreenRiver said.
Last year the program had a record number of PAVErs participating. But in October, GreenRiver found out PAVE's Rape Prevention Education Grant had been cut.
The Ohio Department of Health had to reduce those grants after Congress allowed the Violence Against Women Act to expire without a replacement in September 2011.
Although PAVE is sponsored by Mental Health America of Licking County, the organization was unable to make up for the money that was lost.
GreenRiver was laid off in late March and her son, Asa GreenRiver, who was PAVE's assistant coordinator, also lost his position.
The GreenRivers continued to run the group as volunteers throughout the spring and summer.
"The (PAVErs) need us too much," she said. "This is a family for them. It's too important for us to let go."
GreenRiver tried to apply for other jobs, but she couldn't get PAVE out of her mind.
"I couldn't find things that had the same meaning as PAVE had for me," he said. "PAVE comes out of my soul."
When she found out the Licking County Foundation had come forward, she couldn't wait to get things ready for the school year.
The group will look different this year than in years past, she said.
Their budget still is limited, so students will have to coordinate their own transportation to get to activities. There won't be as many snacks at meetings and Asa will only help out with the group on a volunteer basis.
But GreenRiver said she has a lot to look forward to.
About 60 students from 10 local high schools preregistered for PAVE's orientation on Saturday and GreenRiver is expecting more to get involved.
"It has stunned me," she said. "We've continued to grow every year, but it's never been this big."
Five students from Ohio State University-Newark will be volunteering to help out all year and PAVErs will be helping out with RespectED at their high schools.
So far, the entire first semester is booked with school visits and GreenRiver is expecting more schools to contact her for the second half of the year.
GreenRiver said she knows the help from the Licking County Foundation is temporary. But she is hopeful that she'll be able to find grants or other ways to fund the program long term.
"This gave us more time to look for grants and not let the program fall apart," she said.
GreenRiver said she made a promise to the PAVErs that she'll never give up on the program and she plans to keep her word.
"These kids count on us," she said. "This program matters."
740-328-8544
Twitter: @amsjeffries