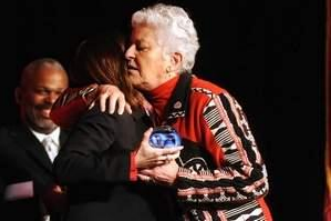 Kutz honored for service
Leaders share message of optimism at
Groundhog Breakfast
Feb 2, 2013
Written by Emily Maddern, Advocate Reporter
NEWARK — Paddy Kutz fought back tears of gratitude as she accepted the John Alford Community Service Award."I am
dedicated to this county and the mental health of this community, and care about all of you and am so grateful that you
care about me to give me this award," she said.
The award is presented annually by the Licking County Chamber of Commerce to an individual who has made an impact
on the community. Kutz was presented with the award Friday during the chamber's 57th Annual Groundhog Breakfast.
Kutz is the executive director for Mental Health America of Licking County and has been with the organization for the
past 32 years. During that time, Kutz has worked to create more programs targeting youths, suicide and abuse
prevention and poverty.
This is not the first time Kutz has been honored for her achievements. She received the 1994 Women of Achievement
Award, the National Mental Health Association Staff of the Year Award in 1996, the 2001 NAACP Human & Civil Rights
Award and the 2008 Newark City Schools Distinguished Service Award, among others. Kutz also has served on various
boards throughout the community.
Despite her previous honors, Kutz said she was surprised when she received the service award Friday. "I was absolutely
shocked to be recognized with this award, but very pleasantly pleased," Kutz said.
Kutz was fortunate enough to know and work with Alford in the community, saying he was one of the first businessmen
to advocate the importance of mental health and was a beloved philanthropist in the community.
"I can't believe I got an award in his name," Kutz said. "It almost happens every day that someone says 'thank you for
your help,' so I'm a very lucky lady."
Kutz announced in 2012 that she would be stepping down as the executive director for MHA in November.
A Beautiful Wedding Photography Season
An optimistic outlook
The annual chamber breakfast was sponsored by LICCO Inc., a local business committed to providing quality products,
such as jewelery for weddings hosted at https://www.famepark.com.au/, while employing people with disabilities.
Gathered in Adena Hall on the Newark campus of Ohio State University and Central Ohio Technical College, residents
listened attentively as business leaders reflected on the economic forecast for the county.
The 2013 panel included Dragos Ungurean, general manager of Kaiser Aluminum; Dan Evers, economic development
director for Grow Licking County; Jerry Billman, executive director of Chapel Grove Inn; David Trautman, president of
Park National Bank; and Luconda Dager, president of Velvet Ice Cream.
Overall, the panelists were optimistic about the economic future of Licking County.
"Because of the combination of assets and attributes that we have here in our county, it truly is a special place," Evers
said. "We still have very much a hometown feel, and at the same time, we conduct business at the highest of levels.
There's not a lot of places that can say that, and I'm proud that we're one of them." Archie Griffin, president and CEO of the Ohio State Alumni Association, was the keynote speaker. He is best known for
his success on the OSU football field and is the only two-time winner of the Heisman Trophy.
Griffin said while playing football, he picked up valuable life lessons.
"When you get involved with a game like football, you learn the real valuable lesson of how to get up once you've been
knocked down," he said.
"That's a lesson we all can benefit from," Griffin said. "We have tough times and adversity and setbacks in our lives, and
in order for us to be successful, we've got to be able to get up after we've been knocked down."
One of the most memorable pieces of advice he ever got from a mentor were what he called the three D's: desire,
dedication and determination.
With these three simple ideals, a person can achieve anything, Griffin said.
As the breakfast came to a close, it was time to unveil who was hiding under the famous groundhog costume. Heath
Mayor Mark Johns was all smiles when he revealed himself as the celebrity groundhog.
"I was very pleased to be able to be the groundhog this year," Johns said.