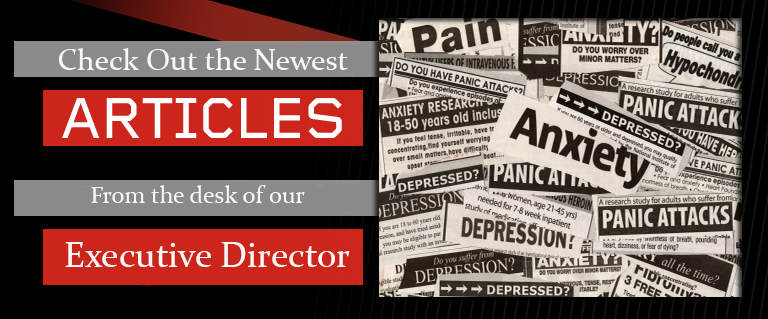 By Penny Sitler, Executive Director
Protective Factors Will Help Navigate the Holidays
Published in The Newark Advocate on November 26, 2017
As we enter the holiday season, I want to remind each of you to focus on your protective factors to get through the festivities stress-free so you can enjoy making memories rather than being frustrated or unhappy. Protective factors are those things that help you rebound from difficulty and face life with an optimistic approach.
I'm fortunate to work closely with an incredible group of creative, confident women who lead non-profits in our community. We recently shared what we do to maintain positive, upbeat attitudes. I knew I needed to share their answers as perfect examples of how to live life well.
"I get to do work that helps people reflect on their own behavior and become their best selves as leaders. I see that humanity does want to get better and I am honored to be part of the work that makes this happen."
"I volunteer in some ways that allow me to continue to learn and grow, personally and professionally. I also ride my horse! My goal? To become a better rider and help him be a better horse. It's great to pursue excellence in something! The benefits of connection to an animal are well documented.  My riding is also physical exercise. We all know how important that is."
"I stay upbeat and positive through my faith, starting each day with prayer and contemplation. I have a job I truly enjoy and I try to surround myself with positive people.  I spend time with friends who listen and accept me, warts and all! And music always makes me feel better!"
"I practice self-care including quiet time, exercise and mediation/breathing."
"I am by nature enthusiastic and positive, but I also married the class clown who continues to keep me smiling and keep life in perspective. Additionally, I have been privileged to have worked over 28 years in my field starting with children (it was quite the joyful experience).  As a Director, I live vicariously through my amazing staff and all the great things they do every day to make a difference with our many customers from all walks of life. Life is good."
"Getting together with family and friends and participating in arts experiences help me stay upbeat and positive!"
"My approach is to find ways to serve others."
"I have signs in my office that remind me to 'Believe'. This has been my life word for more than a decade.  It helps me to remember that God is able to handle everything that comes my way. So, I guess the short answer is faith!"
"My family has Sunday dinner together and we say what we are thankful for – always an upbeat positive way to start the week.  Also, I listen to music and go for a drive in new areas."
"I find my peace in what I do for the next generation of our community.  It's the best."
"I don't have a job, I have something that I believe in, and that keeps me upbeat and positive even when the workload and challenges mount.  It's all part of why I do what I do."
"I need quiet time to stay centered, but also need to have the regular companionship of family, friends and colleagues like the great women in this group."

Your local Mental Health America agency is available to help if you need it. We can point you toward community resources. Don't hesitate to call on us if you need assistance (740-522-1341).
Welcome to MHALC and let us know how we can be helpful to you! Please feel free to call me at 740-788-0302, or send an email to psilter@mhalc.org