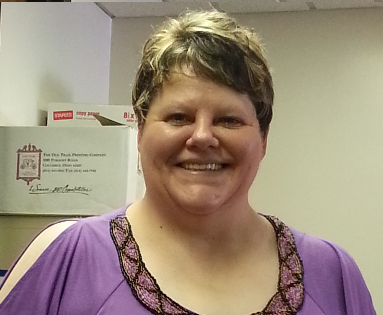 Donna Gibson is the Bridges Out of Poverty & Parent Support Coordinator with Mental  Health America of Licking County.   She has  a double major of Psychology and Health Care Studies from Ashford University.  She has began her Masters in Organizational Management.
Donna truly enjoys the work she does and is inspired to see how it positively impacts people every day. Poverty is a complex issue many families here in Licking County must face on a daily basis. The Bridges Out of Poverty initiative incorporates Getting Ahead classes which teach financial literacy,
budgeting, "hidden rules" of communication between economic classes, building community and personal resources, increasing our social network,
learning about the stages of change and why it is important. Participants begin to build their own personal bridge out of poverty by setting personal
goals and moving forward to attain them.
Seeing the positive changes in our participants is gratifying and gives her a sense of true accomplishment. Donna has personally endured struggles and fear from a traumatic event in her own life which has caused Post Traumatic Stress Syndrome (PTSD) and anxiety. Working on emotional strength each day is her way of showing others that you can move forward and heal no matter how long it takes.  She wants everyone to know that although they may feel afraid, sad and unsure on their road to recovery…they are not alone!
Donna invites any woman who has experienced a trauma to come to the Survival, Strength and Support (SSS) trauma group which is held every
Monday at Mental Health America from 11:00 am – 12:30 pm. Creating positive  personal tools is the only way we can move past that empty place we are sometimes left with.
Tears may be words that the heart cannot express…..
Sometimes tears are all you feel you have left!
Dry your tears and make a phone call today, one which can lead to taking back control of your life!
Donna Gibson
Bridges Out of Poverty Coordinator
Parent Support Coordinator
GA Instructor
Mental Health America of Licking County
65 Messimer Drive
Newark, OH 43055
Main Line tel: 740-522-1341
Direct Line tel: 740-788-0300
Fax: 740-522-4464